Hello and welcome back to The Methane Minute!
You may remember us landing in your inbox for the first time a year ago for COP26; now we're back with everything you could want to know about methane at COP27, kicking off today in Sharm el Sheikh, Egypt.
This newsletter and MethaneMoment.com will be your home for methane intel, events, and resources. Plus, the Methane Moment team is on the ground in Sharm and available to answer questions and point you to expert resources. Please feel free to respond to this email or write to us at methanemoment@gmail.com.
Priority Announcements
Heads up: Tomorrow, the High-Level Expert Group on the Net-Zero Emissions Commitments of Non-State Entities is meeting in the afternoon and expected to release its report. In order to meet emissions targets, it is essential commitments that are currently voluntary must be regulated.
Joint statement from the Global Methane Pledge secretariat on Methane at COP27 – Turning the Corner from "Moment" to Momentum:
According to the Intergovernmental Panel on Climate Change, we must cut methane emissions at least 30% by 2030 in order to keep the 1.5°C temperature limit within reach. Since its launch at COP26, the Global Methane Pledge has generated unprecedented momentum for methane action to deliver on this shared goal, including growing political and financial support, landmark national methane plans and policies, and major new initiatives driving action in energy, agriculture, and waste.
Details about this progress will be shared across more than 20 methane-related events during COP27, including:
Major updates on progress in addressing methane from the oil and gas sector on November 11
Global actions on addressing methane and other short-lived climate pollutants at the
Climate and Clean Air Coalition Ministerial on November 15 at 6:00 p.m.
A "Methane Ministerial" event on November 17 at 3:00 p.m.
A new baseline: A new report from the team behind the Global Methane Assessment (GMA) that details projections of anthropogenic methane emissions through 2030 under various baseline scenarios and assesses the climate benefits of achieving the Global Methane Pledge target compared to the impacts of those baseline emissions. (Read more)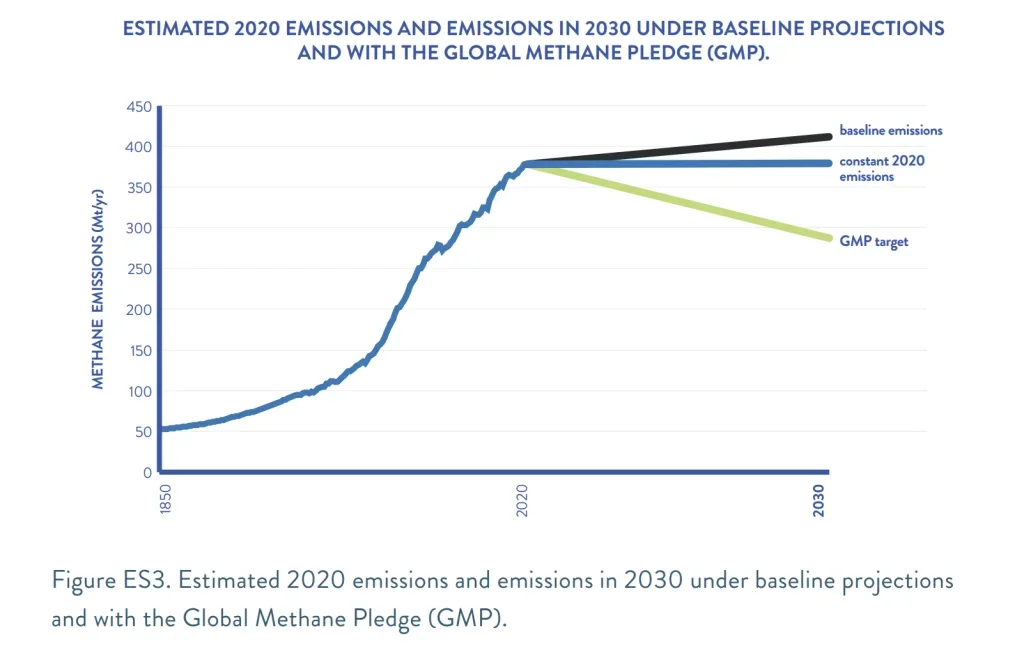 Eyes in the sky: Fully operational, UN Methane Observatory paves way for steep emissions reductions. (UN Environment Programme)
… plus: Methane Clouds Spotted in China by High-Resolution Satellite Observation is the first in a series of exclusive satellite images documenting global methane releases Bloomberg Green. will publish during the COP27 climate talks. (via Bloomberg)
IMF Chart of the Week: Methane Emissions Must Fall for World to Hit Temperature Targets Read more.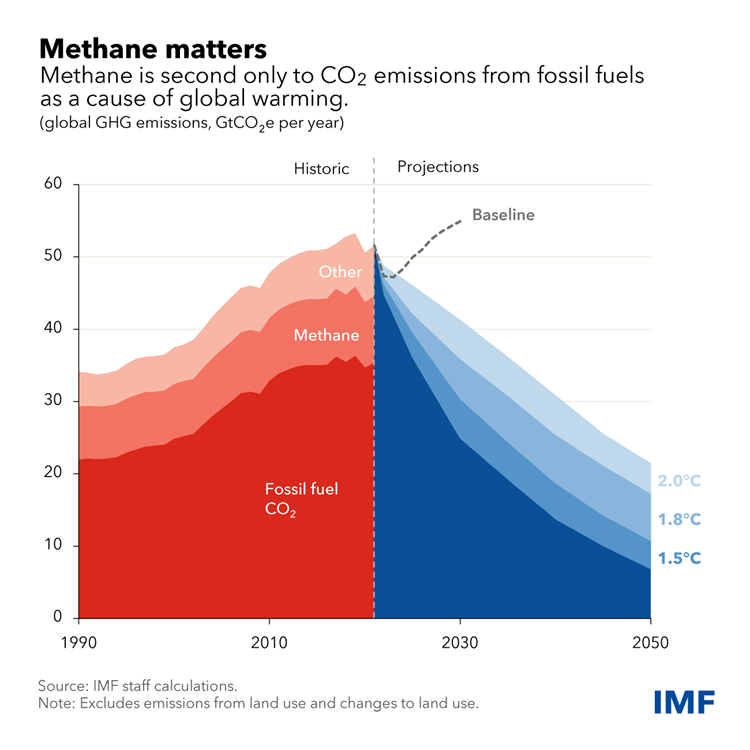 P.S… We'll BOLO for the best cappuccinos and lattes in the Blue Zone. Send us tips (and help keep us caffeinated)!
See (or write!) a great story on methane? Send it our way.