Here we go again
Good morning, everyone. Not a lot of progress but hoping for unsticking. US President Biden and Chinese President Xi had their meeting in Bali at the G20 yesterday. Perhaps their agreeing to no military clash over Taiwan is indicative of a thaw that will lead to a breakthrough here in Sharm. Or, perhaps not. With the cover text negotiations now formally underway as of Saturday, the battle lines for the big fights are starting to become clear. And once again, negotiations over the pace and extent of phase down/out of fossil fuels could go down to the wire.
Priority Announcements
Energy Day arrives at a gassy COP: A narrative tug-of-war is playing out over gas development in Africa. On Saturday the Don't Gas Africa Coalition released the "Fossil Fuel Fallacy" report, knocking down the argument that massive gas buildout on the continent will alleviate energy poverty, and instead cause major health harms to communities and saddle countries with trillions in stranded assets. Read the report here.
The hope is the Beyond Oil and Gas Alliance, launched at COP26, will expand its footprint at its side event at 13:15 on Wednesday, with announcements of new members and information on how the Alliance will support a just transition.
Chile's updated NDC: María Heloísa Rojas, Chile's Minister of Environment, announced updated NDC that would define sectoral pathways to achieving its goal of carbon neutrality by 2050, reversing a trend of increasing methane emissions, advancing a law banning organic waste in landfills, and announcing efforts to use remote sensing to better detect and quantify their country's methane emissions.
Reports!
Can't do methane without ag methane:
A new report reveals that 15 of the world's biggest meat and dairy companies emit more methane than Russia. The report from IATP and the Changing Markets Foundation calculates the emissions of companies such as JBS, Tyson Foods and Dairy Farmers of America for the first time. It calls for more ambitious action to cut emissions from livestock ahead of a Global Methane Pledge Ministerial on 17th November where 40 countries are due to release national methane plans.
Roadmap for U.S.-China Methane Collaboration: Methane Emissions, Mitigation Potential, and Policies:
Methane is a highly potent greenhouse gas with a short lifetime, making near-term mitigation critical for remaining on a global 1.5C pathway. Joint China and U.S. efforts to reduce methane emissions are key to limiting near-term warming, as the first and third largest methane emitters globally. However, ambitious actions by both countries to reduce methane will be needed to deliver the reductions needed to support this high-ambition global outcome. This report provides new, in-depth analysis of opportunities and challenges for methane mitigation in the U.S. and China, as well as opportunities for improving methane mitigation outcomes through collaborative activities and research. It provides a comprehensive overview of the current methane emissions, policy frameworks, and mitigation opportunities in both countries.
O&G planning massive expansion:
On Wednesday 16 November Oil Change International is releasing a new briefing that shows the oil and gas industry is on the brink of a major surge in expansion despite clear evidence from the International Energy Agency and others that fossil fuel expansion is incompatible with holding global warming to 1.5°C. We already know that burning just the oil, gas, and coal in existing fields and mines would already take us far beyond not only 1.5ºC, but 2ºC. The briefing shows that new oil and gas production approved to date in 2022 and at risk of approval over the next three years could cumulatively lock in 70 billion tonnes (Gt) of new carbon pollution, equivalent to 17% of the world's remaining 1.5°C carbon budget.
ICYMI: Fossils literally parachuting (well, gliding) into COP and blocking the sun
Spotted overhead – ADES International Holdings flew some COP-aganda overhead on Saturday (photos courtesy of Collin Rees).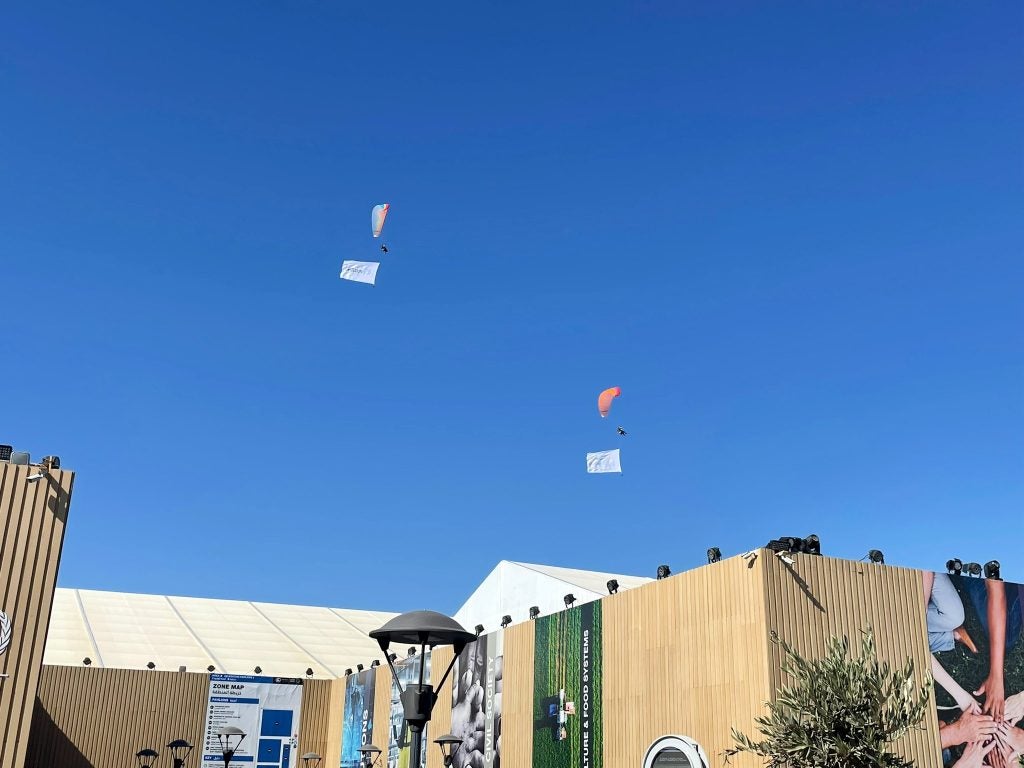 And it seems as though Gastec was giving away sunshades to the taxi drivers around Sharm (many of whom we hear may be getting paid not just from rider fares…)